Project Description
Variety of Opportunities for Satellite Imagery
---
One might wonder, what makes the work on CALLISTO so special? A look at the envisage application provides some answers: There is a variety of options on how satellite imagery in combination with Artificial Intelligence (AI) can be applied. This is also reflected in the very diverse set up of use cases; in CALLISTO six different user scenarios were developed in the first project months. The scenarios were produced by water quality and agriculture policy experts, sensor-oriented thinking journalists and image analysts charged with land border monitoring. See for yourself!
COMMON AGRICULTURAL POLICY (CAP)
In the scope of the project, the National Observatory of Athens (NOA), a research centre in Greece and partner in CALLISTO, focuses on the Common Agricultural Policy (CAP) with a use case targeting Paying Agencies and farmers. NOA identified that the Sentinel satellite data need to be supplemented and/or fused with data deriving from various other sources, such as Unmanned Aerial Vehicle (UAV) images and geotagged photos in order to achieve CAP monitoring. Two scenarios were developed dealing with crop classification as well as grassland outlier detection and reconversion.
Scenario 1 – Crop Classification
The provision of guidelines for the cultivation of specific crops in each EU Member State and the monitoring of this process by the relevant authorities are fundamental elements of EU's CAP. To this end, the CALLISTO project will refine the currently existing approaches for crop classification by utilising Deep Neural Networks and incorporating a variety of heterogeneous data sources for their training. The resulting services will not only improve crop classification, but also lead to better targeted On-The-Sport Checks (OTSCs), improved control of crop diversification and enhanced transparency of the subsidy allocations.
Scenario 2 – Grassland Outlier Detection and Reconversion
Maintenance of permanent grassland is one of the key elements of the EU's sustainable land-use practices since it supports carbon sequestration and protects biodiversity. Each Member State determines the areas that are considered as environmentally sensitive permanent grasslands, which means that farmers should not plough or convert them. Through CALLISTO, grasslands will be identified using machine learning and/or deep learning algorithms and then each grassland area/parcel will be further labelled as permanent or not. This service will assist in cross-checking if grasslands declared as permanent are indeed permanent, as well as in verifying reconversion of such areas. The project will mainly focus on the Netherlands. This is not only because grassland is one of the prevalent crop types in the country, but there is also rich availability of crowdsourced street-level imagery on platforms like Mapillary and VHR satellite data shared by the Netherlands Enterprise Agency (Rijksdienst voor Ondernemend Nederland, RVO).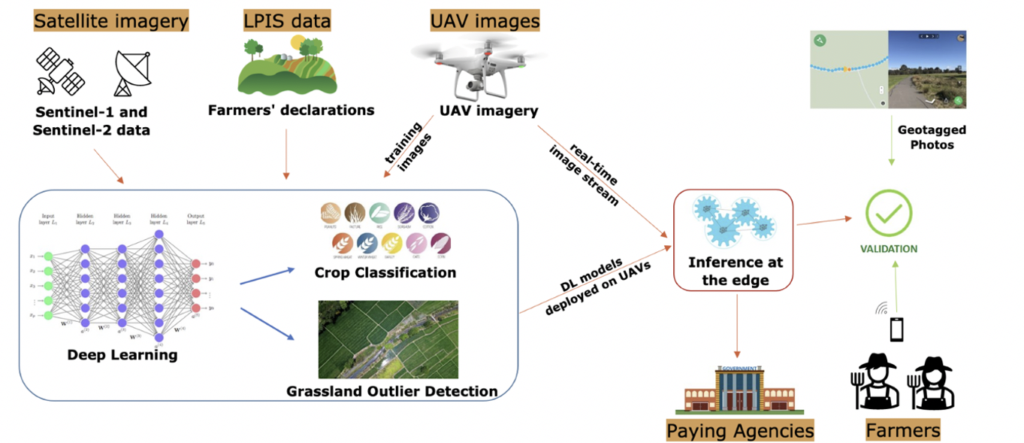 Figure 1: Scenarios 1 & 2
WATER MONITORING
The importance of water cannot be underestimated. Providing people with safe water is one of the main infrastructural tasks for municipalities, thus, the assessment of water quality is crucial in this context.
Scenarios 3 & 4
In CALLISTO, two drinking water utilities will exploit how satellite imagery can support water quality monitoring in their raw water basins. The two scenarios are intended to develop, test and integrate an Earth Observation (EO) data-based monitoring system in artificial water basins from which water is abstracted to Water Production Centres (WPC) located in Belgium and Italy, namely:
WPC Blankaart that is one of the largest surface water production centres of the Flemish water utility and CALLISTO partner De Watergroep (Belgium)
WPC Po River that accounts for about 20% of the water produced and distributed to the City of Turin; a scenario managed by CALLISTO partner SMAT
The current water quality monitoring provides a good temporal view of the water quality. Nevertheless, no spatial overview of water quality in the entire basin is available, nor any short-medium term prediction tool based on the correlation between algae blooms and relevant environmental conditions has been developed. The use of EO data, and the setup of the AI-based CALLISTO-approach will provide an alarm service on threshold exceedance and a dashboard to facilitate decision-making.
Figure 2: Scenario 3 – WPC Blankaart
Figure 3: Scenario 4 – WPC Po River
SATELLITE JOURNALISM
One of the core skills of journalists is research. Research can come along in many facets. In the last decade, the importance of data as a research and analysis tool for journalists has grown intensively – including EO data. Even though journalists become more and more tech-savvy, the application of satellite data (especially, in combination with AI) is still challenging. This makes CALLISTO for journalists extremely interesting.
Scenario 5
In the scope of the project, the German international public broadcaster Deutsche Welle (DW) will address satellite journalism in the context of (historic) air quality data and air quality forecasts. Among others, the following topics will be investigated: Comparing air quality conditions among European cities (e.g. capitals) and applying air quality forecast modelling with AI techniques to predict air pollution events related to meteorology/seasonality for specific areas.
The challenge – but also the promise of CALLISTO – will be to provide a platform for non-satellite experts, such as journalists, that allows not only access to relevant data but also offers tools to interpret the data.
Figure 4: Scenario 5
LAND BORDER MONITORING
One of the areas of expertise of CALLISTO partner SatCen are border monitoring and surveillance services. Among others, SatCen monitors and delivers imagery and geospatial intelligence over certain areas of interest. The envisaged scenario is based on the exploitation of unknown signals and evidences that might be relevant and are coming from Sentinel data.
Scenario 6
As end-users, image analysts want to collect land change signals near EU borders with their monitoring requirements. They expect to have accurate detections of changes at the EU land borders in order to assist their analysis and take further decisions. The vision is that at the end of the process the image analysts will have effectively used the automation provided by CALLISTO to monitor an area of interest and certain decisions can be made as a result (e.g. decision to monitor the area with better resolution products).
In the scope of CALLISTO the focus lies on the Croatia-Bosnia land border. Contractions, land clearings and new developments in this area are taking place at various paces. Understanding the impact that these developments will have on border security is the main concern. The image analysts will use the CALLISTO platform to submit an underlying task for change detection for a period of time. As new images will become available, the CALLISTO platform will automatically search, obtain and process them, issuing the corresponding alerts.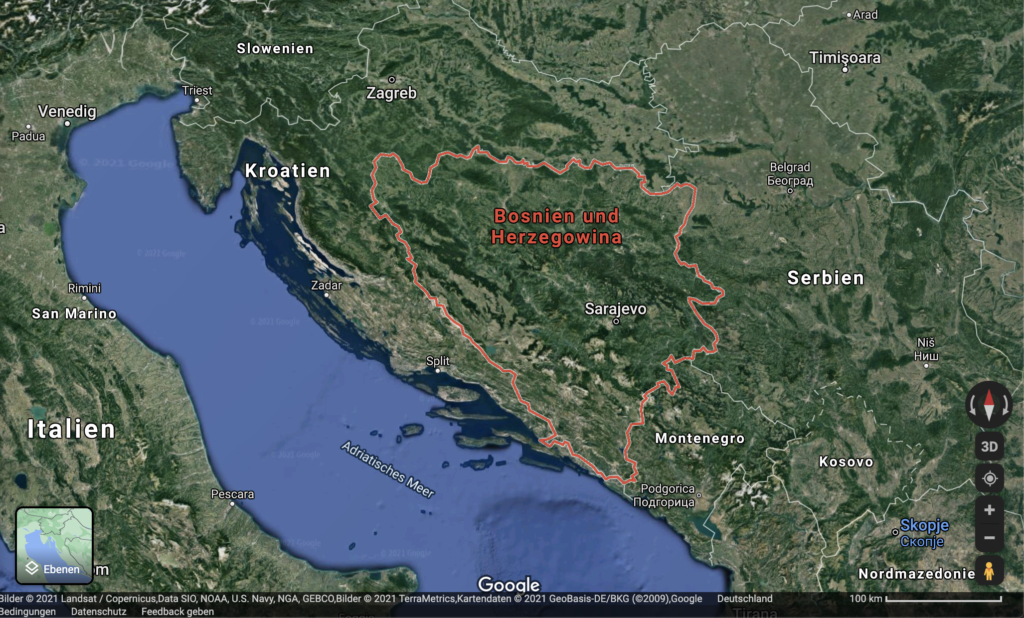 Figure 5: Scenario 6
Project Details
Date

July 08, 2021

Writer

Eva Lopez, DW